Five members of Tamar Valley Male Voice Choir, which draws its members from both sides of the Tamar, have amassed 158 years of male voice choir singing between them! After 2 years of cancelled annual Dinners, because of lockdowns and Covid restrictions, the Choir was recently able to invite the Chairman of the Cornish Federation of Male Voice Choirs, Phil Taylor, to join them at its annual Dinner and to present long-service certificates to the men involved. Unfortunately, John Springham, suffering from Covid, couldn't be present.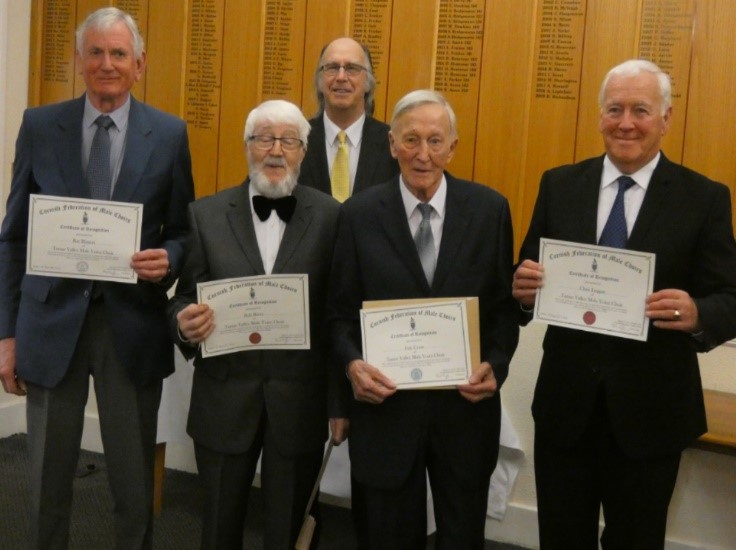 Chris Leggatt, with 42+ years of male voice choir membership, John Springham 40+, Bob Berry 30 years, Ray Hinton 26 years and Eric Cruse 20 years, have all been enjoying practices for concerts far and wide, which have brought in many thousands of pounds for charity.
"The pleasure of singing, both as an individual and to an audience, is immeasurable," says Chris, while Eric feels: "The camaraderie, the
practices, the concerts – I'd be lost without it."
All 5 men have gained immense enjoyment and fun from male voice choir singing over the years. Tamar Valley MVC welcomes men who'd like to give it a try on Tuesdays at 7.15pm, Callington Methodist Church school room– there are only 2 requirements, the ability to hold a tune and a sense of humour!